Cooperative KOVO KONICE history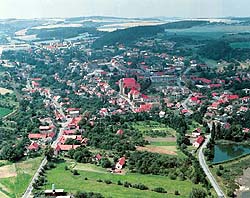 KONICE - CITY
The cooperative KOVO KONICE, v.d. came into being in 1933, when this company was introduced into the Trade Registry in Olomouc as a "Domácký průmysl Company Limited" The manufacture and sale of crochet, net and sewn goods was the subject of its activities. The manufacturing program had been gradually changed towards the metallic manufacture which gradually became predominant. Since 1960 the name of the cooperative was transformed into Lidové družstvo kovozpracující, Konice aimed to activity connected with metal, ready-made clothes and service. Another change was established in 1966, when the name Kovo, výrobní družstvo Konice (manufacturing cooperative) was adopted and cooperative future function was focused to the metallic manufacture with orientation on the balance manufacture, locksmith and submersible pumps repairs.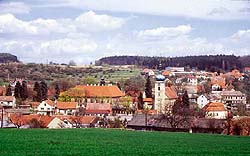 KONICE - CITY
The cooperative had kept this face till 1976, but since 1.1.1977 the cooperative was incorporated to the Mechanika Prostějov cooperative. Within this period the production program was expanded with roof windows, but this manufacture was canceled after some time.
Two manufacturing shops of Mechanika Prostějov became independent within the process of transformation and the new independent subject of law was established on the date of 1.1.1991 with name KOVO KONICE, výrobní družstvo (manufacturing cooperative). The cooperative seat is street 9. května 11 at Konice. The following basic subjects for the cooperative business making are introduced into the Trade Register in County Court Brno, Chapter Dr. filling 170:
locksmithing

electric machines and instruments manufacture, installing, and repairs

pumps and submersible motors manufacture and reparation

balances and weighing equipment manufacture, calibration, gauges repairs and assembly

trade activity
Service with copying equipment, road lorries transport are the complement activities and hostess activity.
The cooperative has 100 of employees, most of them are the cooperative members. The Board of managing staff supervises the cooperative business activity, the Cooperative Chairman is the head of this staff. Ms. Jaroslava Poláková is the Chairman at the time being. The cooperative activity conforms to the approved Charter of the Cooperative.
As stated above, the cooperative activity focuses to the submersible electric motor manufacture, circulating, mud and submersible pumps (detailed specification is stated in the next part) repairs, mechanical balances manufacture and job order of the locksmiths manufacture.
The production decisive part is supplied on the inland market. From foreign customers the most important customer is the Slovak Republic. Another foreign customers are Austria, Hungary and Croatia.
The products and services of the KOVO KONICE výrobní družstvo have not only the long - termed tradition, but the production top quality as well. That is why we invite you to make an acquaintance with our production and trade assortment introduced on the following pages. Besides, another way of contact is possible:
tel. +420 582 396 531, 396 535 - 6, 302 840

fax. +420 582 396 530, 396 536

e-mail:

kovokonice@email.cz